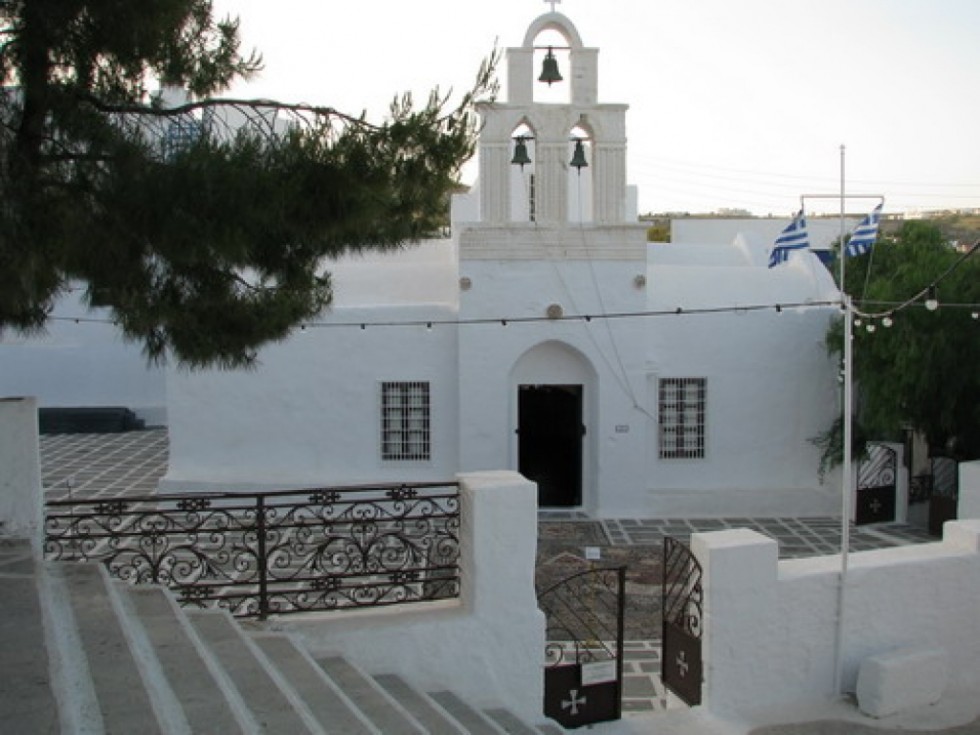 Very close to Adamantas port, the church of The Holy Trinity is located, where the Church Museum is housed.
This church, which is over a thousand years old, is characterized as "crossed-shaped three-aisled basilica with troulokamara (arched-dome)", since it is made of three aisles on which the dome rises vertically having the shape as the temple. This type of church is very rare (there is only one more such church, in Peloponnesus, in Levidi, Arcadia) and it is an interested architectural monument.
Initially it was made so as to serve as a monastery dedicated to the Virgin Mary of Theofani, but in 1839 it was purchased by Cretan refugees and they turned it into their village's church. The edges and the arches of its bell-tower are influenced by the gothic patterns, whereas the lintels and the pilasters are decorated with traditional sculptures and religious patterns. In the yard, at the church's entrance, you will see two mosaics, creations of the local artist Giagos Kavroudakis. These two colorful mosaics are dated from 1937; one of them depicts a dragon in the shape of Milos, whereas the other depicts the battle of the good against the evil.
Ever since 2000 the Church Museum of Milos has been housed in the church of The Holy Trinity, a museum where you are given the chance to admire a great part of the Melian artistic tradition and heritage as well as of the Melian hagiographic tradition. More specifically, you can see icons dated from the 14th century (such as a rare deposition from the cross), works of the Cretan school, works by Emmanuel Skordilis and Antonios Skordilis and Cretan painters, epitaphs and woodcut lecterns, 17th century iconostases, the bishop's throne, the icon screens, silver chalices, incensories, golden offerings, rings, necklaces, earrings and other exhibits of important artistic value.
Additional Info
Manager:Grigoris Mpelivanakis
Working Hours:Every day: 09:15 – 13:15 & 18:15 – 22:15
Entrance Fee:Free
Area:Adamantas
Phone:+30 22870 23956
e-mail: milosbel@otenet.gr