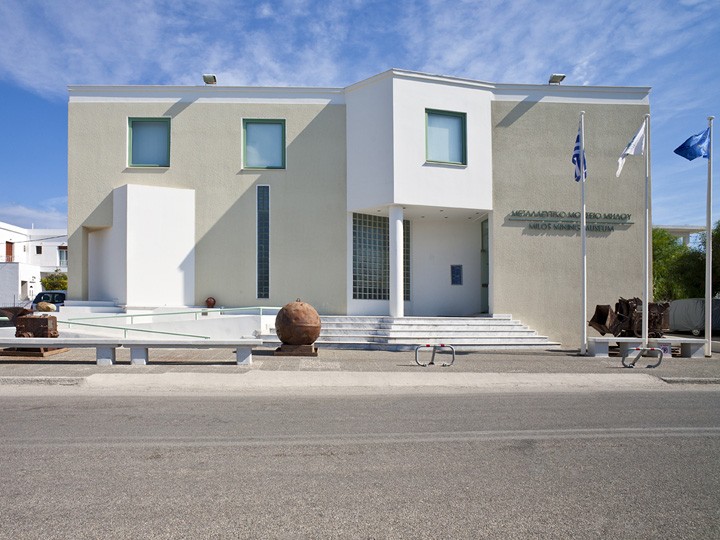 The Mineral Museum of Milos, an urban non-profitable company, was made by S&B Industrial Minerals S.A. in 1998 with the aim to honor and promote the mineral history as well as the geologic and natural heritage of Milos.
Contact tel.: 22870
At the ground-floor room the social, financial and technologic dimension of Milos's mineral history and tradition is presented. The exhibition on the ground floor is dedicated to the island's natural and geologic wealth, where the minerals that used to be mined on the island since the Neolithic age are presented all the way to the present day; special emphasis is given on their usage in our everyday life. Complementary, films are projected dealing with the mining and the procedure of the minerals' production, whereas in the projection room visitors can "travel" back to older periods through the descriptions of the old miners.
The Museum realizes organized geologic walks, whereas in its premises educational programs take place and pedagogic and recreational activities are organized in cooperation with skilled educational carriers and museum-educators. In its 12 years of operation, the Museum has been visited by more than 135,000 people from Greece and abroad, whereas it has become a favorite destination of educational tourism.
Additional Info
Working Hours:1 June – 30 September: 9:00 – 14:00 & 17:00 – 20:30 everyday, Octomber, April & May: 9:30 – 14:00 & 17:30 – 20:30, everyday 1 November – 31 March: Saturday 9:00 – 14:00, Sunday to Friday Requires prior phone communication
Entrance Fee:3€ ( 2€ for people over 65y old, Free for children under 10y old and students
Area:Adamantas
Phone:+ 30 22870 22481
Fax:+30 22870 23984
Webpage:http://www.milosminingmuseum.com
e-mail: info@milosminingmuseum.gr